Tokyo Game Show 2022 is nearly here and promises to offer exciting reveals and updates on some of the most anticipated games we can't wait to play and games we may not even know about yet. From Xbox to Capcom to Sega and so many more, some of the biggest developers in the world are attending.
This Tokyo Game Show 2022 schedule and watch guide will provide you with everything you need to know about the event, including when TGS starts, a list of places you can watch the streams, and what you can expect to see at the show.
When is TGS 2022 happening, and who is attending?
The first thing gamers need to know is the Tokyo Game Show 2022 date. The gaming expo will begin this Thursday, September 15, 2022, and will run through to September 18. During that time you will be able to watch many presentations from many game developers. Also planned is The Japan Game Awards 2022 show broadcast. To see all the details, look at the official Tokyo Game Show 2022 schedule below.
Please note that all timeslots are shown using Japan Standard Time (JST).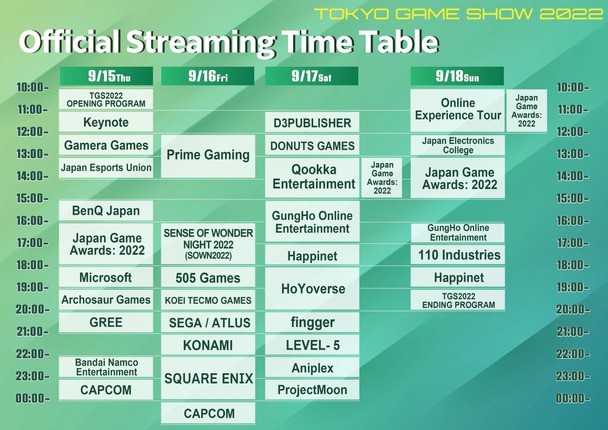 The presentations at TGS 2022 that are bound to be the most talked about are the following:
Microsoft – September 15, 18:00 to 19:00 JST
Bandai Namco Entertainment – September 15, 22:00 to 23:00 JST
Capcom – September 15, 23:00 to 24:00 JST and September 17, 00:00 to 01:00 JST
Prime Gaming – September 16, 12:00 to 14:00 JST
Sega/Atlus – September 16, 20:00 to 21:00 JST
Konami – September 16, 21:00 to 22:00 JST
Square Enix – September 16, 22:00 to 24:00 JST
Where can gamers watch TGS 2022 live?
If you plan on watching the Tokyo Game Show 2022 live stream, you will be happy to know that it will be available on the expo's official YouTube channel. IGN is reported to be an official event partner and will provide live streams. More details are sure to appear on their platforms very soon.
The TGS 2022 program live feed will also be available to Steam users through a particular page.
The game Beautiful Mystic Survivors has just had a major update and is also participating in the event, please watch the latest trailer below: