Last week, Archmage Games Studio had a live interview with Gamek. AMG is extremely proud to first express its ambition to bring Vietnamese PC Games internationally. The Archmage family would like to sincerely thank Gamek for the article.
In Vietnam, Archmage Games Studio emerged as a breath of fresh air with the development and release of quality PC games, achieving notable successes. Archmage Games' games are released on Steam, a PC gaming platform with more than 120 million monthly users from every country and territory in the world, but also the most demanding audience with demanding requirements. Strict about game quality. So how did Archmage Games Studio and its teammates conquer the global audience? Let's learn more about the formation and development process of a game studio that bravely followed its own path!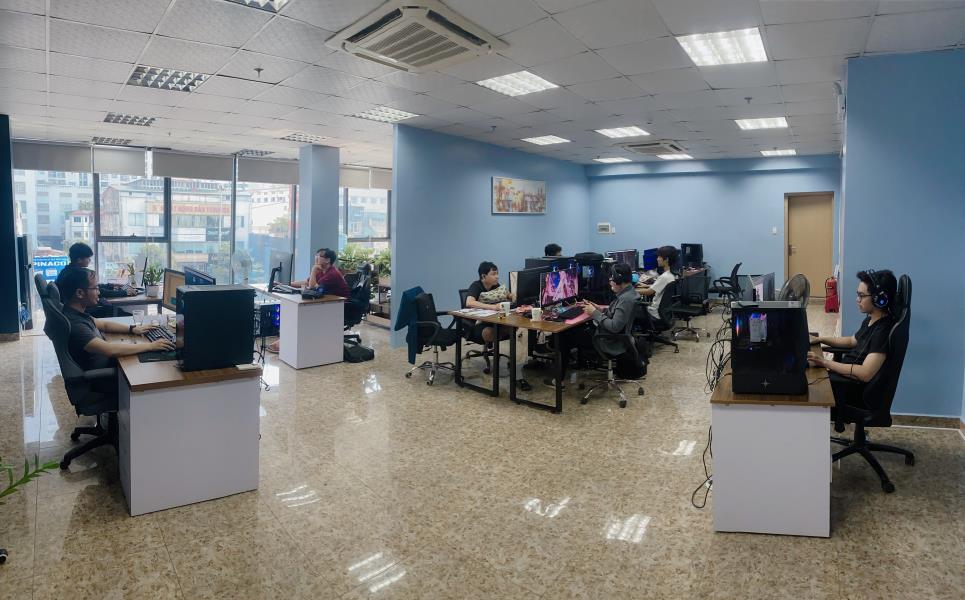 How was Archmage Games born?
Entering the Game industry with just two Hanoi Polytechnic friends (Dat and Hien) working together. After graduating, the two had their own careers at large technology corporations in the US. Although they have achieved many achievements, both of them have a desire to create unique, creative, and engaging PC games that they have often played together since University. That common dream motivated these two friends to decide to make games together outside of work starting in 2019. At this early stage, the two-member team made games mainly for the purpose of learning and practicing their skills. degree.
By August 2021, seeing a viable path in the fiercely competitive PC gaming market, the two decided to establish a game studio in Hanoi - Archmage Games Studio officially appeared on the world gaming map. world, with their debut product Beautiful Mystic Survivors. It is very difficult for a young studio to recruit human resources, so the difficulties in building a workforce are even greater. However, with the determination and burning passion of the two founders, along with the love for PC games of young people who chose to join the studio at that time, AMG has stood firm and developed strongly until now. .
The initial successes made the studio famous
Up to now, AMG has completed two projects with high success: Beautiful Mystic Survivors (BMS) in 2022 and God of Weapons (GOW) in 2023. In particular, BMS is a roguelike action game with anime graphics. Bright and eye-catching, with high quality artwork and eye-catching visual effects. The game is made in collaboration with the world's top international talents. To date, the game has achieved many reviews on Steam, a remarkable achievement for a PC indie game. Exploding products not only provide a financial foundation and style direction but are also a sure momentum to help the company start to make a breakthrough.
Not resting on their laurels, AMG immediately began producing the next game project, GOW. After release, GOW achieved much greater success than BMS, the game reached the milestone of selling more than 100 thousand copies in just 2 weeks after launch. This is truly a remarkable achievement for a rookie in the PC gaming industry. GOW has been played by many famous KOLs in the world such as Lirik, Sodapoppin, AdmiralBahroo, and major Japanese YouTubers. GOW was even published in the famous magazine PCGamer. The GOW project also marks the partnership between AMG and Smilegate, a world-famous game developer and publisher with hit titles such as Lost Ark and Raid.
In the near future, AMG plans to continue to perfect and develop the GOW game, with plans such as bringing GOW to consoles such as Switch, Playstation, Xbox, mobile, and a project to make additional DLC for GOW. After that, the studio will continue to make games according to the direction of developing its diverse products.
Ambition to bring Vietnamese PC Games to the world
AMG aims to develop games in many different genres such as: Simulation, Roguelike, Card Games - Turn-based and RPG. AMG always wants to bring players new, creative, attractive and quality experiences. Therefore, AMG games are always carefully invested in all aspects from plot, graphics, sound and visual effects.
Through its projects, AMG wants to develop the culture of making PC games in Vietnam, and above all, AMG wants to gather talented and passionate people to create products of increasingly better quality. , has a larger scale, and hopes that one day it can be known to the world as a Vietnamese studio that makes famous, lifetime games.
Always looking for companions
It must be said that making high-quality PC games like AMG's direction is a highly challenging task, especially in the context of Vietnam where there are not many personnel with experience in making PC games. Therefore, AMG is always looking for and welcoming qualified, passionate and like-minded companions to work together to make games and build a studio.